Are you the changemaker to optimize the Indonesian healthcare system?

Do you want to graduate as a management nurse with a Dutch diploma Bachelor of Nursing?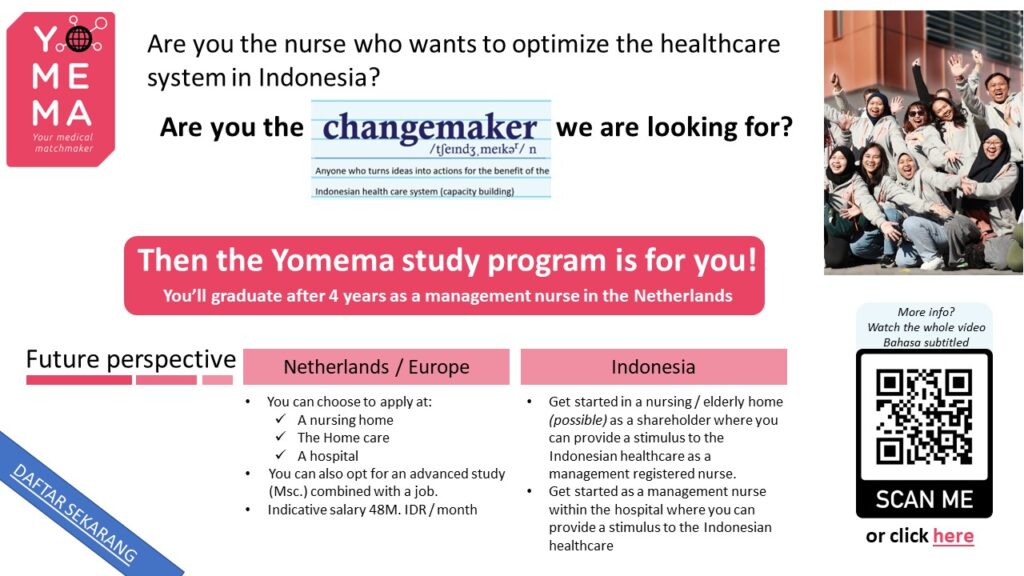 HOW DOES IT WORK?
If your profile matches with the described profile you can apply;
YOMEMA searches for a healtchcare institute in the Netherlands where the internship and the side job can take place;
PAY ATTENTENTION: The trajectory will take place in the elderly care and NOT in the hospital context;
After the application, there is an interview followed by several assessments. (Selection phase);
If you are selected, you will start a 6-week language course in Indonesia to learn basic Dutch up to level A1 (online prelearning course). When you do not pass this prelearning course, the Yomema program will unfortunately end for you;
If you pass this prelearning course, you may continue in the language course up to B1 ;
After completing the language course, you will take the mentorship program in which both intercultural and nursing content will be taught;
You'll fly to The Netherlands to start your education and mandatory study of 4 years in total;
After finalizing your education program of 4 years (you've graduated), you can be offered a job at either the company where you have done your internship or at another employer within the YOMEMA network.
YOUR PROFILE
Level of Education
Your English language level must be sufficient at A2/B1 level (TOEFL 350-450);
S1 or D-IV with NERS.(fresh graduates are welcome to apply), or
S1 or D-IV with STR with at least 1 year experience.
Age
Preferably aged 22 – 32 years.
Working Experience
Not necessary for S1 or DIV with NERS.
Minimum 1-year experience for S1 or DIV without NERS.
Holidays
14 days per year regarding the side job. This does not include Easter, Pentecostal Holidays, Christmas nor New Years.
A school year consists of 40 teaching weeks.
Study load:
40 hours/week (1 schoolday, 2 internship days, 2 side job days)

WHAT ARE THE COSTS?
For this program there are no study costs for you. (1 retake is included, if you need more retakes in the study program both in Indonesia and in the Netherlands they will be at your expense)
Housing is arranged by YOMEMA or the healthcare institutions.
Housing rent in the Netherlands is being payed by yourself from your own salary.
Overall (indication) you will earn €2,000 gross per month, which is €1,000 net per month.
Tax declaration is arranged for you by an external company at a fixed annual rate.
Would you like to have an insight into the Bachelor of Nursing training program in the Netherlands? Then click here
---